The Warrior is a supreme melee combatant who is skilled at defending allies.
Specializations
Edit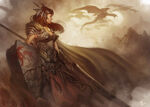 A valiant defensive fighter.
Role: Tank
Primary Stat: Endurance
Key Abilities: Taunt, Heroic Strike, Champion's Shield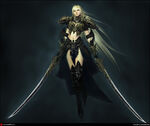 A master of close combat and dual wielding.
Role: DPS
Primary Stat: Dexterity
Key Abilities: Overwhelm, Mortal Blow, Rupture
A terrifying embodiment of strength and brute force.
Primary Stat: Strength
Role: DPS
Key Abilities: Cleave, Bloody Rage, Wild Strike 
Ad blocker interference detected!
Wikia is a free-to-use site that makes money from advertising. We have a modified experience for viewers using ad blockers

Wikia is not accessible if you've made further modifications. Remove the custom ad blocker rule(s) and the page will load as expected.